Berlin is known for its vibrant LGBT scene and culture, making the city particularly attractive for visitors and expats alike. Its long history of gay activism and well-known reputation as a liberal and open city contributes to making Berlin a European symbol of freedom and transgression. The gay involvement can date as far back as the period of the Weimar Republic: during the 20s and 30s, in fact, Berlin was the centre of gay Europe. Berlin was also home to the world's first gay magazine, Der Eigene, which was first published in 1896. The science of "transsexuality" was founded at Berlin's Institute of Sexual Science, while homosexual bars, nightclubs, and cabarets flourished in an exciting subculture like nowhere else in Europe.
Truly demonstrating its progressive nature, homosexuality was almost decriminalised in Berlin as early as 1929. It was only the country's economic crash that postponed the vote for this movement, which was then made nearly impossible due to the rise of fascism. It was in 1969 that decriminalisation of homosexuality was finally passed.
It is easy, then, to understand the role that Berlin still plays in the LGBT world and culture, not only in Germany and Europe, but in the world in general. While the district of Schöneberg has historically been the centre of gay life, we can no longer call it the "gay village" of the city, as LGBT venues can be found throughout the city and in areas like Kreuzberg, Friedrichshain, Neukölln, Prenzlauer Berg, and Mitte.
Day to day: gay life
The liberal vibe of the city can be perceived in the streets and cultural centres: not only does Berlin host one of the main and most-known pride events around Europe (Strassenfest), but it also swarms with art institutions, bars, and support groups for the LGBT community. The legalisation of same-sex marriage has further enhanced attitudes and actions supporting gay rights.
Photo credits: David J
The city's thriving café culture, wide selection of gay bars and clubs, mainstream availability of gay press, and other cultural attractions such as a gay museum (Schwules Museum) attract members of the LGBT community from countries all across Europe and further afield. It is a place where gay people and those in support of the gay community can enjoy culture and nightlife together.
Each year, the LGBT community flocks to Schöneberg for Strassenfest, Europe's largest Lesbian and Gay Festival, held around Nollendorfplatz. This gay festival is held over a weekend in June. Strassenfest is filled with music, amusements, a celebrity talkshow, and presentations from a range of LGBT groups and organisations. It's a fun filled weekend where all are welcoming, effectively promotes and supports LGBT culture.
Gay accommodation in Berlin
If you are here to experience the crazy transgressive nightlife of the weekend or simply to participate in one of the uncountable gay events that take place throughout the year, Berlin offers a wide range of gay and gay-friendly accommodation across the city. All of the key locations mentioned so far (Kreuzberg, Friedrichshain, Neukölln, Prenzlauer Berg, and Mitte) have accommodation to suit gay visitors. Hostels, hotels, apartments, and houseshares are found around these areas, whether you're just visiting for a short stay or are looking for longer term accommodation.
Gay Schöneberg
U-Bahn: Nollendorfplatz
Photo credits: Ingolf
Schöneberg is the traditional centre of Berlin gay life and the community is catered for by a mass of bars, restaurants and cultural spaces. More recently, the area has become a desirable district for young professionals and young families. Particularly sought after is the Bayerisches Viertel neighbourhood. Schöneberg apartments are predominantly found in pretty, terraced Altbau blocks with balconies. Many people looking for Schöneberg apartments are drawn to the area's northern districts which boast modernised blocks and tree-lined streets. Coupled with a thriving nightlife, upmarket retail outlets (KaDeWe), and recreational spaces, Schöneberg is in high demand. Schöneberg apartments can be particularly large (e.g. 120 sq m) in comparison to Berlin generally, but smaller, less expensive properties can also be found.
Berlin gay bars – Schöneberg
Heile Welt – friendly staff, laid-back atmosphere and lots of booze in their cocktails
Tom's Bar
Blond – karaoke night on Tuesdays
Kumpelnest 300 – a brothel-turned-bar, allegedly Bono's hangout during his visits to West Berlin
Shops
Bruno (bookstore)
Boxer
KaDeWe
Clonezone Berlin
Arts and culture
Schwules Museum (gay museum) – the world's first gay museum
Delphi Filmpalast (art house cinema)
Galeri Judin
Gay Kreuzberg
U-bhf: Schlesisches Tor, Görlitzer Bahnhof, Kottbusser Tor
Kreuzberg is now one of the main centres of the Berlin gay scene. The area is famous for its arts scene, radical politics, and immigrant communities. The area is packed with little bars, independent shops, eateries and art galleries. Gay Kreuzberg isn't centred in any particular area within the district.
Berlin gay bars – Kreuzberg
Roses Bar
Barbie Deinhoff
KitKat Club
Südblock
Die Busche
As a liberal, bohemian area, many bars are distinctly polysexual. Renting Kreuzberg apartments has become more expensive as the area's desirability continues to grow, but it's still possible to find a reasonably priced place. A lot of Kreuzberg apartments are found in heavily-graffitied Altbau blocks on tree-lined streets. Most places come with high ceilings, wooden floors and balconies. Görlitzer park (Görlitzer Bahnhof) is a popular summertime hangout and the venue for the annual (and very rowdy) May Day festival (1st of May). Gay Kreuzberg also holds an annual Gay Pride event every June; it's a rather more chilled out affair that its Schöneberg equivalent.
Gay Friedrichshain
Technically, Friedrichshain and Kreuzberg are now a combined authority even though they are separated by the river Spree. Friedrichshain is an area that is absolutely packed with bars and restaurants, especially around Simon-Dach Str., Grünburger Str., Boxhagener Platz, Boxhagener Str., and Warschauer Str. Not surprisingly, the area draws throngs of tourists (and locals) during the summer months and the area's pavements are lined with tables and chairs late into the night. Berghain (U-bahn Ostbahnhof), probably the best and most famous techno club in the world (also famous for its notoriously picky door policy), calls Friedrichshain home.
Berlin gay bars – Friedrichshain
Himmelreich
Grosse Freiheit 114
Berghain
Photo credits: Lis
The latter is often dominated by a super-hip gay crowd. Another cool place to visit is the BVG (Warschauer Str.), also known as the RAWarea, an old factory complex containing bars, clubs, galleries and a weekend market. For the romantic among you, watching the Berlin sunset over from Warschauer Str. can be a nice way to start an evening. Like Kreuzberg apartments, Friedrichshain apartments are usually in Alt and Neubau blocks above commercial premises. Friedrichshain still has an edgy feel with graffitied doorways and promotional and political posters plastered wherever there's space (or even when there's no space) but the influx of young families and the number of tourists have lead to the onset of gentrification.
Gay Neukölln
Gay Neukölln is fast becoming the new Kiez (neighbourhood) for Berlin's cool crowd. It remains a stronghold of the Turkish-German community and most streets boast a Turkish supermarket/fruit market, nut shop, and kebap restaurant.
Berlin Gay bars – Neukölln
Ficken 3000
Silver Future
SchwuZ
Like Kreuzberg, many of Neukölln's trendy bars have a very mixed, international crowd. Neukölln housing is a mixture of Alt and Neubau, and prices are reasonable but rising quickly due to its growing popularity. It's also well located with Kreuzberg within walking distance and a direct U-Bahn link to Kottbusser Tor and Alexanderplatz.
Gay Prenzlauer Berg
Prenzlauer Berg's gay community is spread out across the area and fairly well integrated into the wider community. There are plenty of cafes, shops, galleries, bars, and clubs to choose from, but they're not clustered into one small area as they are in other gay locations.
Berlin gay bars – Prenzlauer Berg
Shambala
Pick Ab
Romeo's
Stahlrohr
Gay flatshare Berlin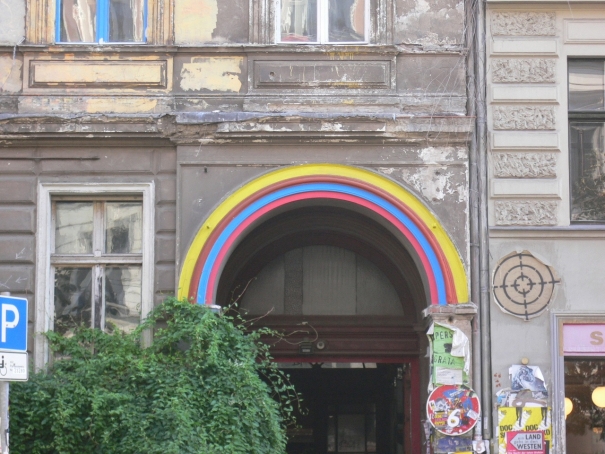 If you're LGBT and moving to Berlin, you might consider renting a room in a gay flatshare. It's an ideal way to meet new LGBT people who will hopefully introduce you to the wider Berlin gay scene. As well as renting a gay flatshare in Berlin, many LGBT people choose to live in queer flatshares or community projects. These are often made up of LGBT, queers and straight people, including families with children, who want to live in a communal, shared space. If you're looking for a gay flatshare in Berlin, the areas we've described may be a good starting point, but you will find gay-friendly accommodation and generally speaking an open-minded and welcoming atmosphere throughout the city.
Berlin is definitely a must-visit location for anyone in the LGBT community. It's a lively city with a diverse culture and rich history, and has long been welcoming of gay people.